2009 Shows
Saturday September 19, 2009

Rebetika Revealed
~ a masterclass on rebetika music, dance and song!

Further to the success of Melbourne Town Hall 5th July Concert 'A tribute to the Women of Rebetika' ShivanaMusic is delighted to announce the inclusion of their next project 'Rebetika Revealed' in this year's Darebin Music Feast program!

Presented by Adelaide musician and ethnomusicologist Demeter Tsounis, this multicultural, multi-instrumental, multi-masterclass of music, dance and song will be something extra special for all!

Demeter learnt to play two traditional instruments, the baglama and toumberleki at the Moschos Popular School of Traditional Music in Athens, Greece.

She will take you through the passage of time, space, rhythm and will share with you the music, instruments, stories, origins and influences of Rebetika. Accompanying Demeter will be bouzouki player Takis Dimitriu (member of Rebetiki band associated with Cafe Rebetika) along with soulful singer Anthea Sidiropoulos and well-respected gypsy/bellydancer "Zabelle".

The masterclass includes a presentation, demonstration and audience participation, as well as further time for musicians wanting to dabble in the Rebetiko style. BYO Instruments to play or hands to clap and/or voice to sing and/or legs to dance!

Bookings+Registrations open September 1st

enquiries: Melbourne +61 3 9817 3882

Demeter Tsounis

PHOTO: courtesy of Maria Tsounis

Anthea
Sunday July 5, 2009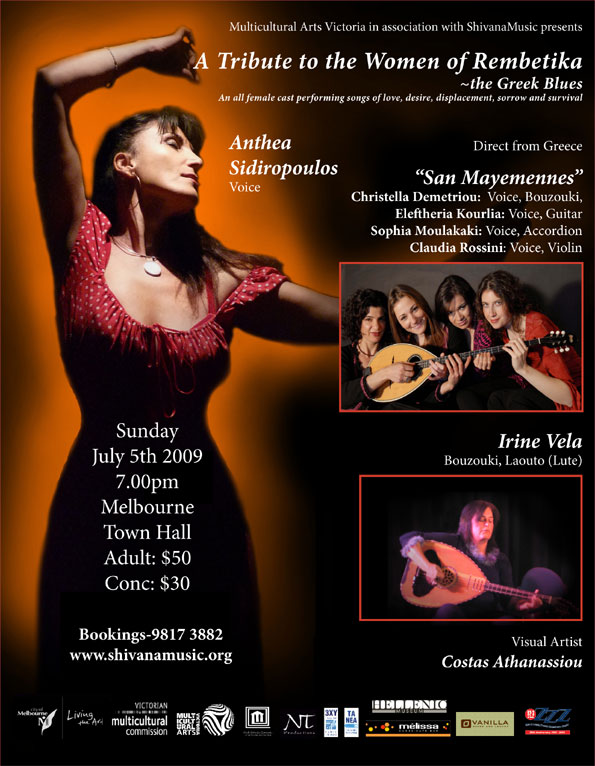 | | |
| --- | --- |
| | |
| | Zabelle |
24th June 2009
'Rebetissa'
Anthea launches her new music with gypsy dancers from "Belly Dance with Zabelle" -
a mixture of Greek/Aussie folk blues as 'REBETISSA' -
an ageless celebration of womanhood for Roarhouse on June 24th at the Esplanade Hotel.
Hear "I am Woman, I am She" here.


24th May 2009
| | |
| --- | --- |
| | |
| | Anthea with Bill, Eleftheria, Chris & Jill Morgan (MAV) |
mini Glendi at the Arts Centre, as part of the Mix it Up program
Anthea's story-telling-through-song appearance, at the Arts Centre on the Hamer Hall Foyer stage - a pre-show appetizer to the Eleftheria Arvanitaki concert.

25 Feb – 14 Mar 2009
Night Breakfast
8pm Thu–Sat; 6.30pm Wed & Sun plus 1.30pm Wed 11 March and 11am Sun 8 Mar
$25 / $12 Concession
Carlton Courthouse
Seven older Australian women from different cultural backgrounds are
stranded overnight in a flood: Irish, Italian, Greek, Turkish, Chinese and English.
Night Breakfast is based on interviews with older women in the Darebin area and inspired by the floods of 2003.

A celebration of the human spirit.

A new play written by Merrilee Moss
directed by Lynne Ellis

Performed by Margaret Dobson, Dorothy Yiu, Angela Padula, Ayten Ulusoy, Samantha Bond, Helen Delaney, Frances Hutson, Anthea Sidiropoulos.
"A solid performance by Anthea Sidiropoulos as Aphrodite." - Australian Stage magazine.
| | |
| --- | --- |
| | |
| | Anthea |
Feb 16, 2009
Human ... right?
Fundraiser for International MelbournePEN, St.Kilda Town Hall.
See article in The Age by Leon Gettler, "Artists unite to speak their peace".
January 8 - 12 2009
Boite Daylesford Singers Festival
Anthea began the year running singing workshops in Daylesford, for the Boite Daylesford Singers Festival, teaming up with octogenarian historical dance teacher Olga Black, they ignited the floorboards of Daylesford with the most beautiful tales of Grecian martyrs.
SHOWS - 2014-2018 2013 2012 2011 2010 2009 2008 2007 2006 2005 2004 2003 2002 2001 2000