2012 Shows
December 31, 2012
New Year's Eve !
Anthea @ Alpha Ouzeri on NYE!!

from 10pm till late -
playing songs of all eras 
both Greek and English!! 
from Nana Mouskouri to Janis Joplin,
Streisand to Merlina Mercouri
and Aretha to ABBA!
Book Now!!! (see details on poster)
Sunday 25 November. 2pm till 6pm.
Hellenic Museum's 60th Inaugural Diaspora Celebration.
Hellenic Museum Cnr Williams and Latrobe Sts, Melbourne. This is a free event.
Melbourne's own singer songwriter Anthea Sidiropoulos has been invited to present her latest music offering in the form of Anthea's Rubies, a six-song cycle of Mediterranean Dreamtime - highlighting seeds of the diaspora - as part of the Hellenic Museum's 60th Inaugural Diaspora Celebration. Anthea will perform with Greece's legendary singers Maria Farantouri and Yiannis Kotsiras, composer Tassos Ioannidis and Melbourne based singer and composer Christos Ioannidis - celebrating the anniversary of the signing of the migration act between Greece and Australia 60 years ago.
This Greek Australian music offering of original works will feature a special tribute to the late Costas Tsicaderis. Greek born and Melbourne raised, Tsicaderis was a local independent music identity. Costas made a huge impact mentoring aspiring musicians in the '70s, '80s and '90s, who were thirsty and in search of their Hellenic musical roots. Upon his passing, friends and family, colleagues, and event agency The Boite (who supported Costas' music), gathered to produce an album of his unpublished works, aptly titled Mighty and the Humble, which was released over two concerts at BMW Edge Federation square 2006 and 2008.

Performing two of Costas' songs within Anthea's six-song repertoire are longtime collaborative musicians Jacob Papadopoulos on bouzouki, Spiros Papoutsis on accordion, and indigenous didgeridoo player Gnarnayarrahe Waitairie, who were part of the Costas Tsicaderis Ensemble. Joined by guitarist Nikos Kapralos, Anthea's Rubies will perform live, to include Costas' mesmerizing instrumental Beyond Mulamein, everyone's favourite Η Μικροι και η Μεγαλη (Mighty and the Humble) and Anthea's ode to all Greek migrants Μες την ξενιτια (Foreign Land) all of which were part of Arnold Zable's compilation album The Fig Tree, which won best folk release in 2004.

Anthea's Foreign Land continues to inspire many incarnations, like the inspirational soundtrack for student film With One Suitcase, winner of best film at Melbourne's 2010 Greek Film Festival. It also featured as The Suitcase to Survival Song, as performed by Anthea, for the2012 Australia Day 'what's in your suitcase' celebration theme, at the Myer Music Bowl.

A special performance also included is Διχως Εσε (Without You) from the recently released album Echoes, a tribute to Greek poet Nikiforis Vretakkos with music composed by Greek Australian Arthur Rorris.

As a daughter of the Greek diaspora, Anthea Sidiropoulos will delight audiences with her self-penned songs reflecting life as a first generation Greek Australian woman within Melbourne's multicultural landscape, performed bilingually with Anthea's Rubies on this memorable occasion: the Hellenic Museum's 60th Inaugural Diaspora Celebration.
(text from Neos Kosmos article.)





November 18, 2012




They're coming to Melbourne!!   

For their Echoes Cd launch 
opening for the annual 
Athens Commemoration concert. 

See poster for details 
but be quick with tickets!!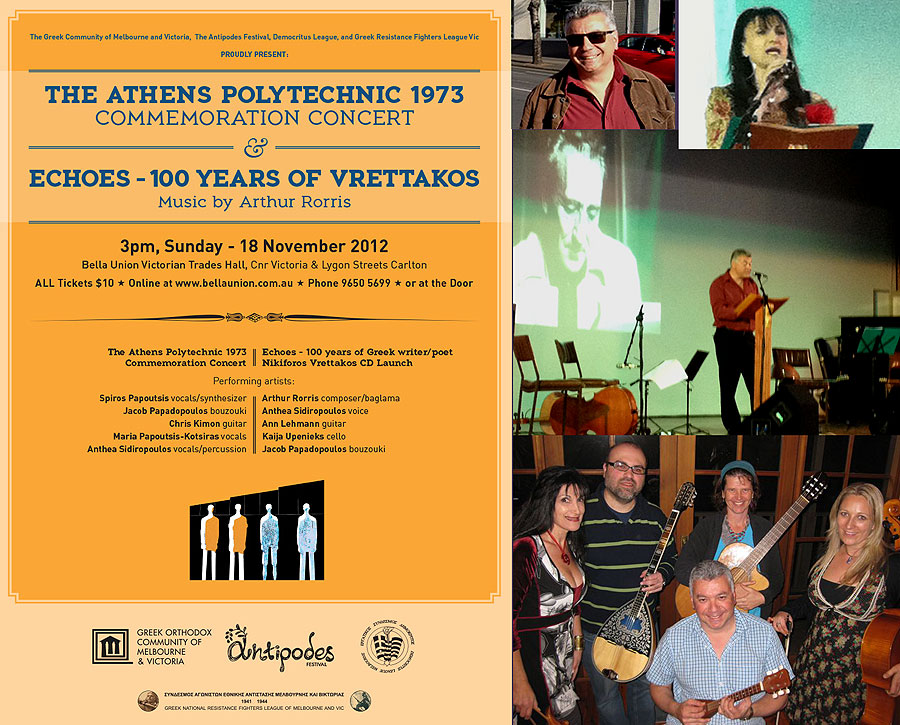 October 2012 - ongoing:
Anthea invited as voice of the new CD "Echoes" - her voice once again, travels to Greece!
Kicking off in Adelaide as part of the Greek Odyssea Festival, Thursday 11 October 2012.

Launch of the Arthur Rorris's CD Echoes or ΑΝΤΙΛΑΛΙΕΣ in Greek - Anthea chosen as principal vocalist.
Greek/Australian activist Arthur Rorris has composed music to the beautiful poetry by the late Nikiforos Vretakkos culminating in an exquisite CD simply titled 'Echoes' or ΑΝΤΙΛΑΛΙΕΣ in greek.
see arthurs website for further details www.arthurrorris.com
watch track 4 * without you * Διχώς εσέ * on you tube http://youtu.be/n04WA_HEYDA
ALSO - "Echoes of Inspiration" in The Weekender, Aug 4, 2012 and "The Poems of Vrettakos" in Neos Kosmos, June 7, 2012
| | | |
| --- | --- | --- |
| | | |
| Self-made baglama Arthur plays on CD | Arthur Rorris | Self-made electrobouzouki on CD |
"And your country, when you hold it dear in your heart, is everywhere. Your constellation, from that height, does not see Mt.Taygetos. It sees Earth."- Nikiforos Vrettakos.
The ministry of Culture and Tourism of Greece has designated the year 2012 as "Year of Vrettakos" on the occasion of the 100th anniversary of the birth of the Krokean and world renowned poet Nikiforos Vrettakos. This is the CD they have been playing in Greece!

Nikiforos Vrettakos (1912-1991), was born in the village of Kokees, near Sparta. He is widely noted for the deep humanism of his poetry and for his unusual inspirations. He constitutes an important chapter in the progress of Modern Greek literature. His work continues to be read by the younger generation of readers and it continues to inspire them.

June / July 2012
July 21. THE FINAL WINTER BOITE - STYLE SHOW.

Boite website

SYDNEY HELLENOPHILE FANS! - Our LUCKY FRIDAY 13 JULY GRECIAN GIG with the FABULOUS 'OUT OF THE BLUE' BAND!!
Thursday 19 July -
Art Exhibition Launch: Anthea singing her own works - 'Foreign Land - Mes tin xenitia' (Free event)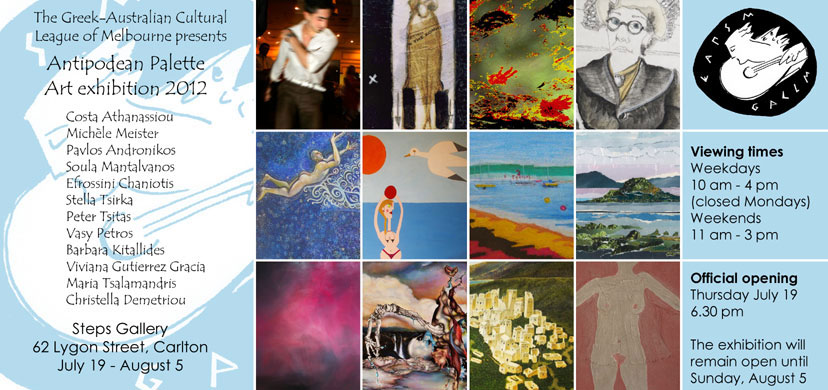 ---
May 2012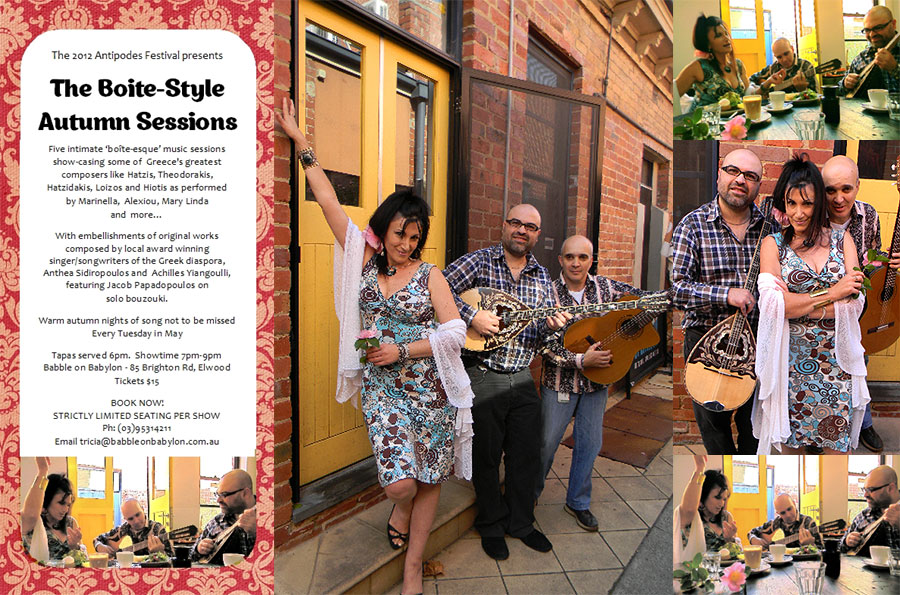 Experience the voice that moved ABCTV's The Slap!...
Melbourne's 2012 Antipodes Festival presents soulstirring Greek music and song EVERY TUESDAY IN MAY.. if you're in Melbourne over May and you feel like listening to some greek soulful music in an intimate, informal, boite-style setting (aka in greek a 'koutoukaki') then choose a Tuesday and get to Babble On Babylon!.. Performing are local award winning singer/songwriters Anthea Sidiropoulos and Achilles Yiangoulli featuring Jacob Papadopoulos on solo bouzouki, who have created a beautiful music program to compliment your deliciously divine tapas served from 6pm, as showtime begins at 7pm-9pm * STRICTLY LIMITED SEATING PER SHOW * tix $15 Bookings: Ph: 03 95314211 E: tricia@babbleonbabylon.com.au
---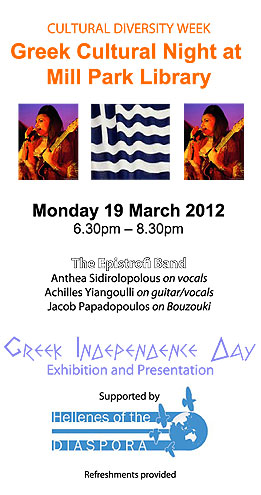 March 2012 - Cultural Diversity Week!
Let the Greek Celebrations begin!.. ?

*all free events* Happy Greek Independence Day!

18 March from 7.30pm..
jammin with the best @ Tsindos Greek Tavern Lonsdale St, Melbourne Sunday night with Jac Papadopoulos on Bouzouki, Chris Kimon on Guitar at Melbourne's Tsindos Tavern Lonsdale st at 8ish... greek folk blues

Monday 19th March
@Mill Park Library for Greek Independence day celebrations with Epistrophi's Jac Papadopoulos and Achilles Yiangoulli.

Friday 23rd March
with Anesti Chiaplas at Melbourne's Dental Hospital cafe (of all things!) they're celebrating cultural diversity day every day!

Wednesday 28th March
Michael Michaels book launch 'Resolving the Cyprus Conflict'

Greek invite here (PDF). free event.

Thursday 29th March, 7pm
Lalor Library - Greek Independence day celebrations with Greek music song and dance!... come one come all!

---

Saturday March 3, 2012 - PEARL !
03 March 2012 *HISTORY REPEATS WITH WITH A WHOLE LOTTA LOVE*
20th Anniversary Doors Show with revived
Pearl-Janis Joplin Show just as they'd double billed in the 90's!..
along with ShedZepplin...
8:45pm - Pearl- The Ultimate Janis Joplin Show
lights the spark that sets the night on fire!!
10.15pm - Shed Zepplin Robert Plant aka Simmo Simmeau and
11.30pm - Tony Dee aka JimM and The Doors -
Let the Ceremony begin as you
Take another little Piece of my heart now Baby!! ?

Pearl-The Ultimate Janis Joplin Show Dec 1993...
revived for 20th Anniversary of The Doors Show 3rd March 2012
at The Espy StKilda, with Daniel Solowiej on Drums,
Jeremy Zatorski on Bass, Robbie Ragg on Keys,
Matt O'Connor on Guitar and Anthea (aka Jewels) Sidiropoulos on voice...
the little black dress laced in gold embroidery is back!...
---

FEBRUARY 2012 - Antipodes Festival! - free event
Saturday 25th and Sunday 26th
MCing at the Dela Rosa Childrens Stage

3PM Saturday 25th - Anthea and Friends, dedication to friends in Greece - we believe in Greece!..

---

Thursday January 26, 2012 - AUSTRALIA DAY CONCERT
Confirmed!..

Anthea featuring at the Myer Music Bowl Australia Day Concert, 26 Jan from 6pm - FREE!!!!......

Anthea sings her beautiful song written for her parents, dedicated to all migrants near and far..

This year, cultural infusion themes the suitcase.. 'what's in your suitcase?'..

Little 6yr old Anthi / Anthea / Anthoula / Julie / Jewels / Steeleson / Sidiropoulos tells it like it is..

her parents came to Australia to work for a better life for her, she washes a thousand coffee cups a day because her dad helps people with his english speaking experience to pay their bill, buy a car or find a job! She tells it like it is for her..

"with one suitcase in their hand, they came to this foreign land, and in all the hardship and in all the glory and in all the passion and in all the pain... they taught me how to 'LIVE'!.. and party!.. in a foreign land, that they embrace and call home.."

http://www.australiaday.vic.gov.au/

The suitcase which will appear on the Sidney Myer Bowl 10m x 5m on Australia Day.
---

Saturday January 21, 2012 - WAYNE GALE & FRIENDS
Anthea as part of the 'All Star LineUp' -

the poster says it all!..

Wayne Gale (guitar) Laurie Miller (Lead vocals+ guitar) Andy Persichetti (Bass) Darren Ryan (Drums) with special guest vocals Andy Lutz (Cold Chisel tribute) Jimmy Cupples, The Voice of Lucy Gale, Mae Parker and the King Beats..

with Anthea-Jewel Sidiropoulos singing her first 'Pearl-er' snippets of 'Pearl-The Ultimate Janis Joplin Show!' soon to be fully revived!...

so stay tuned for that one!..

for now, get your tix for Hi Fi Bar, 21 Jan 2012!!...
---
SHOWS - 2014-2018 2013 2012 2011 2010 2009 2008 2007 2006 2005 2004 2003 2002 2001 2000