2004 Shows
National Folk Festival 2004
The Fig Tree Concert


Sunday 28th November

4pm - Coburg Festival -
Community stage located at the Bell Street end of Sydney Road

Anthea's Loukoumi - "Grecian Grooves with Mediterranean Moves" featuring BellyDancing with Sabelle
Sunday 21st November
3.30pm - Darebin Festival - Edwards Lake - Arts and Sports Stage
WORKSHOP!! ~ Bellydance and Song with Anthea and Sabelle
4pm - Memorial Concert
Venue: Preston Town Hall - Gower St Preston
FREE - with Guest Musician Irine Vela (Anthea on at 5pm)
Memorial Concert 'Polytechnio' for students in Greece killed by the Junta in Greece - Lest we forget: Athens 17th Nov 1973 .... more info.

OCTOBER SAT 16 ~ 5.15PM
Melbourne Festival - The Famous Spiegeltent - St.Kilda Rd Melbourne.
Anthea: Guest Vocalist ~ "At Table with Canto Coro"
5.15pm - 45mins - no interval
COST $10
6pm - 8.30pm
FREE laughing club, karaoke, singing tuition and band in Fed Square.
OCTOBER SAT 9 ~ 7PM
$28 (conc $24)
KAVISHA MAZZELLA & ARNOLD ZABLE – Anytime The Wind Can Change
Australia is a land of immigrants and indigenous people, a new world with an ancient past. In fact, we are a nation of boat people. Aria Award winning singer-songwriter, Kavisha Mazzella and award-winning author and storyteller, Arnold Zable, weave songs and tales of love, humour, migration, losers and misfits, and epic journeys to the great Southern Land.



Darebin Music Feast - ANTHEA GIGS, SPOTS and W/SHOPS
Saturday 18th September - 10pm
Guest spots
Anthea with her Bellydancers funk it down...
Funky Grecian Grooves - Festival Club @ The Roof Top
Northcote Town Hall
189 High St Northcote
Thursday 16th September - 7.30pm
Guest spots
'Help filll the Chalice' Fundraiser
Wesley Ann 250 High St Northocote
with Kavisha Mazzella, Anthea, Kelly Auty, and Sue Ingleton….
Tuesday 14th September - 7pm
Guest spots
EarthSongs @ Northcote Uniting Church
251 High St Northcote -
Anthea performs with Bruce Watson, Annie Kennedy, Green singers etc…
Sunday 12th September
Darebin Arts and Entertainment Centre
Boite World Music Room
2.40pm - 3pm
Anthea with Jacob Papadopoulos on Bouzouki and Spiros Papoutsis on Accordion
Greacian musical delights...
Same place Same day!!
In The Studio Room - 5pm
Bellydancing and Chanting Workshop
with Anthea, Sibelle and Pamela
come move to the groove and chant to the beat!
Saturday 11th September 3pm - 5pm
Sing and Chant with Anthea
Uniting Church 251 High St Northote
Donation: $2

Wednesday August 25, 7.30pm ~
The Fig Tree
A Concert for The Age Melbourne Writers' Festival
St Michael's Uniting Church 120 Collins St. Melbourne
Entry $25, $18conc
Enq and bookings: 9417 1983
"We live in an era of journeys. Millions of people are on the move, trying to find new lives, a place to forge new directions." Arnold Zable, author, the Fig Tree
Narrated by Arnold Zable, with Kavisha Mazzella, Klezmania, Costas Tsicaderis, Anthea Sidiropoulos, Klezmeritis, Freydi Mrocki, David Krycer and more, this concert celebrates the work of a leading Australian writer as part of The Age Melbourne Writers' Week.
To create a musical companion to Arnold Zable's book The Fig Tree, Arnold and the Boite have brought together some of Melbourne's finest musicians and songwriters.
The Fig Tree CD features Kavisha Mazzella's moving songs that speak for the dispossessed; Klezmer bands, Klezmania and Klezmeritis pexpress the vitality and pathos of Eastern European Jewish music; David Krycer and Freydi Mrocki sing Yiddish poetry; Anthea Sidiropoulos and Costas Tsicaderis evoke the Greek islands and the migrant experience; and the legendary Greek singer Maria Farantouri gave permission for the inclusion of her famous Song of Songs.
This concert is part of the Boite Winter Festival.



| | |
| --- | --- |
| | |
| | Anthea with her bellydancers from left Sibelle, Anthea, Underbelly's Trisnasari and Pamela. |
Monday August 23, 7:00 pm ~ Wesley Ann 250 High St Northcote (Opp Uniting Church) -
As part of the Overload Poetry Festival: 'THE ANCIENT MARRIAGE' (Poetry and Music) Music & Poetry have been formally married together longer than husbands and wives. Here, five very different musicians explore union with words in five very different ways. Ian McBryde, w/ZaZiz; Paul Mitchell w/Jumbuck: Andy Jackson w/North Atlantic; Max & Mica; Anthea Sidiropoulos: MC Matt Hetherington $5/3.

Saturday August 21, 10:30am ~ Anthea sings live
Maureen Cooney show ABC 774 approx 10.30am - Singing Song of Songs from The Fig Tree CD with Kavisha Mazzella on harmony, Achilles Yiangoulli on Guitar and Jacob Papadopoulos on Bouzouki.

July 3rd ~ Anthea special guest with The HaBiBis performing at Canberra's Oneira: Winter Festival of Dreams
Canberra Celebrates the Olympic Spirit through the Arts from 3/07/2004 to 8/08/2004
Oneira means Dreams! Join us for Oneira, Canberra's winter festival which celebrates our changing dreams and our hopes. It takes place over 6 winter weekends in the lead up to the Athens 2004 Olympics. Oneira is a cultural celebration which parallels the Cultural Olympiad in Greece. VISIT THE WEBSITE FOR ALL THE DETAILS - Oneira
June 26th ~ Guest spot with The HaBiBis at Warburton Winter Festival - at Warburton Community Centre
June 18th 7:30pm ~ Opening concert for Gathering of Women Festival, a weekend of gathering of spirit. Northcote Uniting Church, High St. Northcote, bookings 9482 2884.
June 9th ~ Multicultural Day at Coburg West Primary School

Tuesday June 8, at 7:00 pm
**** FUNDRAISER by Filmmaker Nadia Tass and Lions Club ****
@ Westgarth Theatre 7pm Screening of Troy
$15 buys you Brad Pitt and TROY the Movie...
Finger Food/ Drinkies / Music from Grecian Diva's Anthea and Irine...
**** ALL PROCEEDS TO THE ORPHANS FOR EDUCATION and WELLBEING ***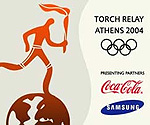 Athens 2004 Olympic Torch Relay -
presented by Coca-Cola and Samsung
- Saturday 5th June -
Palms Lawn, Albert Park
(next to Bob Jane Stadium)
11:00AM-2:00PM:
'Pass the flame, unite the world' and celebrate the journey of the Athens 2004 Olympic Torch Relay - presented by Coca-Cola and Samsung - at Palms Lawn in Albert Park (next to Bob Jane Stadium).
Join in the festivities as the community celebrates the arrival of the Athens 2004 Torch with a traditional Greek welcome!
1 pm: Anthea and band perform sublime and intoxicating traditional and contemporary Mediterranean melodies. She sings music that pays homage to her Greek roots while filtering them through contemporary Australian sensibilities. Anthea makes these swirling rhythms and melodies addictive and exciting to the audience.
Guest Musicians Include:
Irine Vela - Bouzouki/Lute
Jenny Thomas - Violin
Evri Evripides - Bass
Mulaim Vela - Guitar
Michael Kontochristos - Percussion
For further information on the Melbourne leg of the Athens 2004 Torch Relay, click here.

The Quiz –
Thursday 3 June - 7.30pm - light entertainment by Anthea, Irine & Mulaim:
Greek Community Building 168 Lonsdale St. Melbourne FREE!!!
Warm up for the Athens Torch relay by joining Jane Clifton and her panel of experts in the recording of 'The Quiz,' the weekly ABC quiz show. Test your wits and stretch your knowledge on all things Greek and Olympics against a panel of prominent community figures in a night of light hearted fun and hilarity. Your time starts now ........
Be in the audience! Next Recording: Greece, Gods and Olympians....
Everyone is invited to share in the rich culture of Greece as we celebrate the torch's journey to the Athens Olympics. With broadcaster Rena Frangloudakis, former Speaker in the Victorian Parliamnet Alex Adrianopoulos and Warwick Hadfield, presenter of the Sports Factor on Radio National.... WHEN: 7.30pm, WHAT DATE? Thursday 3rd June WHERE? Greek Community Building 168 Lonsdale St. Melbourne FREE!!! Presented in conjunction with ABC Radio National as part of Greek Imprints, a series of audio explorations and celebrations of all things Greek. For further information, click here.
PROGRAM WILL BE ON AIRED ON RADIO NATIONAL: Sunday 20th June at 3.30pm ~ presented by Jane Clifton.

May 8th ~ SQUAREBEATS @ Federation Square ~ 2pm - 4pm with Mediterranean Dreaming: The Mermaid is BACK!!
May 2nd ~ Sydney Town Hall - Harmony Day - The Cyprus Peace Band along with fellow Greek and Turkish musicians .... Achilles Yiangoulli, Irine Vela, Tumer Mimi, Demichan, Michael Kontochristos, and others.
APRIL 22nd ~ Anthea's Diary - NOMINATED for BEST PERFORMANCE at Fringe2003 - Anthea is back with her diary of laughs, tears and little wisdom....
EASTER WEEKEND: April 9th, 10th, 11th, 12th, ~ National Folk Festival: The Fig Tree Concert + Anthea Solo/Band
April 2nd ~ Greek/Australian Conference Opening Night with The HaBiBi's - RMIT Storey Hall Swantston St Melbourne Saturday
SUNDAY's in MARCH ~ BARBUKKA! 8pm - 10pm - 279 Smith St Fitzroy 9417 2877 Anthea and band 'Loukoumi' ~ Grecian Grooves with Mediterranean Moves: .... with intoxicating Greek tunes by Anthea's Band "Loukoumi" ~ BellyDance by "Pamela and Cheryl" ~ and Gorgeous Grecian Moves by John Kostarakis....
March 28th ~ 11am MC-ing @ School Fete - Carlton Primary School
March 28th ~ 5pm Preston Creative Living Centre (Uniting Church) 648 High St Resevoir 94713004 - Entry $5 Mediterranean Grooves with Middle Eastern Moves Sulty Vocals and Chanting by Anthea, Movement and Dance by Trisnasari
March 28th ~ 8pm BARBUKKA 279 Smith St Fitzroy 9417 2877
March 21st ~ 3pm Sydney *Harmony Day FESTIVAL*
March 21st ~ 8pm BARBUKKA 279 Smith St Fitzroy 9417 2877
March 18th ~ St. Vincents Health: St George's Hospital Cotham Rd Kew - A little music to sooth the soul....
March 14th ~ 3pm - 5pm ~ Radio PBS LIVE TO AIR on The Global Village presented by Roger Holdsworth, Barbukka 279 Smith St. Fitzroy.
March 5th ~ 12noon-2pm ~ International Womens Day: Brunswick Town Hall
March 5th ~ 6.30pm Collected Works Bookshop ~ Level1/37 Swanston St Melbourne - Free Entry Compulsions: Join poet Angela Costi, singer/songwriter Anthea Sidiropoulos and writer Paola Bilbrough, for an evening of inspiring stories on what is that inspires us to keep creating.
Friday's in February ~ Anthea's Loukoumi: an acoustic selection of Greek Folk songs, 7-9pm, Barbukka 279 Smith St Fitzroy 9417 2877 ~ supporting Unified Gecko 10pm
February 7th ~ Global Sounds at Sunset, Melbourne Museum ~ The Fig Tree ~ A musical celebration of journeys: Arnold Zable and the Boite have brought together some of Melbourne's finest musicians reflecting the themes of displacement, strength, longing and friendship from Arnold's book The Fig Tree. Featuring Anthea Sidiiropoulos, Kostas Tsicaderis, Kavisha Mazzela, David Krycer, Freydi Mrocki.
SHOWS - 2014-2018 2013 2012 2011 2010 2009 2008 2007 2006 2005 2004 2003 2002 2001 2000